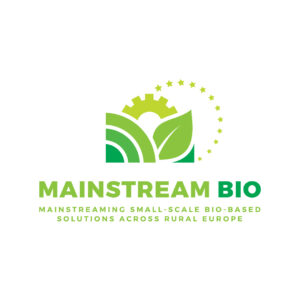 MAINSTREAMing small-scale BIO-based solutions across rural Europe via regional Multi-actor Innovation Platforms and tailored innovation support
MainstreamBIO sets out to get small-scale bio-based solutions into mainstream practice across rural Europe, providing a broader range of rural actors with the opportunity to engage in and speed up the development of the bioeconomy. We start with regional Multi-actor Innovation Platforms (MIPs) established in 7 EU countries to enhance cooperation among key rural players towards co-creating sustainable business model pathways in line with regional potentials and policy initiatives.

Alongside them we support 35 multi-actor partnerships to overcome barriers and get bio-based innovations to market with hands-on innovation support, accelerating the development of over 70 marketable bio-based products and services. In parallel, we develop and employ a digital toolkit to better match bio-based technologies, social innovations and good nutrient recycling practices with available biomass and market trends as well as to enhance understanding of the bioeconomy with a suite of educational resources building on existing research results and tools.
Establish regional Multi-actor Innovation Platforms to bring together and enhance cooperation between key stakeholders, opening up sustainable bio-based business model paths in rural areas
Co-develop innovation support services and digital tools to build awareness, understanding and capacity to uptake small-scale bio-based solutions in line with market demand and regional specificities
Deliver tailored innovation support services to accelerate the deployment of scientific and practical knowledge, introducing bio-based solutions to the market along with marketable products and services
Evaluate results and use evidence to drive multi-actor dialogues, peer learning and knowledge transfer, delivering guidelines and recommendations for replication in rural areas across Europe
Raise awareness, cluster with relevant initiatives and communicate the project, disseminating its results, while also acting towards their widespread adoption and sustainable exploitation
Enhanced cooperation of key players and knowledge holders resulting in sustainable business model pathways for bio-based innovations in rural areas
Provision of tailored and independent support to innovators to accelerate the development of marketable products and services and improve the market penetration of bio-based solutions in Europe
Successful deployment of existing scientific and practical knowledge and increased number of implemented bio-based solutions in rural areas in line with relevant policy initiatives
Start date:
1st September 2022
End date:
31st August 2025
Funding:
Horizon Europe, €2,999,032.00
QPLAN
Munster Technological University
Wageningen UR
IUNG
RISE Bioeconomy
Plodviv University
Food and BioCluster Denmark
Innovarum
Draxis
White Research